When you MUST know your long-term future with someone, Soulmate Predictor's revolutionary numeric system is the ONLY method able to do this. It's the world's authority on measuring true love and soulmate potential with 100% accuracy – EVERY time.
The world's ONLY relationship advice software is...
Inexpensive
Soulmate Predictor

costs less than the price of going on even one bad first date (new haircut and clothes, gas, food, entertainment, wasted time).
It's less expensive than boring and worthless astrological synastry compatibility text reports (regardless of their cost, detail, length or origin).
It's less expensive than hiring a psychic, astrologer or tarot card reader. Professional astrologers specializing in relationship and romantic compatibility advice cost from $150 to $400 per hour.
You'll know for sure if you're compatible before wasting another minute, a penny, or a broken heart on someone who will leave you worse off than before you met them.
---
Limitless
Instantly know your romantic compatibility with anyone, any time (without needing to spend time or physically interact with them in any way).
Use it for every new encounter for the rest of your life.
Discover when and where your

TRUE

loves and soulmates were born. There is NO other possible method of actually physically locating them.
Play matchmaker!! Know how romantically compatible all of your friends, family, classmates, coworkers, neighbors, lovers, ex-lovers, celebrities and famous people are with you AND with each other.
Secretly see into anyone's inner-personality while knowing at a single glance your chances for long-term love and romantic compatibility.
Makes the perfect romantic ice breaker topic.
Perfect entertainment to liven up any party.
---
Perfect for online dating
The best dating sites (such as PlentyOfFish.com) display their member's age and astrological birth sign. This is all the information required for Soulmate Predictor's Compatibility Grid feature requires to let you know if there is any hope of long-term romantic compatibility between the two of you. The more birth information you enter, the more accurate the results.
The software's Most Compatible Dates feature allows you to know the birth dates (down to the birth hour and minute) and sun signs which are most compatible with your own very unique birth information. This allows you to ignore most personal profiles in bulk as being definitely incompatible for finding love and harmony – while focusing your search on those which the software allows you to know for certain hold the potential for BONAFIDE true love.
The Best Cites feature allows you to search through hundreds of the USA's largest cities for the ones in which your most compatible people were (or could have been) born – based on the results of the Most Compatible Dates grid. If you were extremely sincere about finding your utmost compatible person (and were willing to correspond with a personals ad of someone most likely living all the way across the country) this would be the way to do it. This feature also allows you to search the world's largest cities for the same thing (in case you were willing to search for your true soulmate anywhere around the globe).
You'll never again waste time contacting (or responding to) someone on an online dating sites.... only to eventually discover that the two of you were not very compatible to begin with.
Soulmate Predictor's digital Astrology 2.0 technology is countless times faster, easier and more accurate than any form of tarot or traditional astrology.
---
Use it everywhere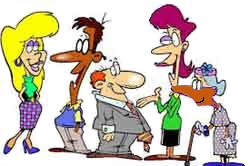 Know FOR SURE if there's any real long-term romantic compatibility between the two of you before becoming involved in an ill-fated campus, office, nightclub or online romance.
Screen employment applicants whose personality won't fit in with you and your close-knit employees. Preview your new in-law, neighbor, boss, coworker, or classmate to how compatible the two of you will be.
---
| | |
| --- | --- |
| Operating system: | Windows 95, 98, XP, Vista, Win 7, Win 8, Win 10 |
| Requirements: | Internet connection to install (but not required after installation) |
---
Priced to be easily affordable by everyone on the planet!


$39 until March 31, 2020